Join Us October 31, 2023
to November 2, 2023
Capital Turnaround / Washington, DC
iEX is underway so stay tuned for updates after the event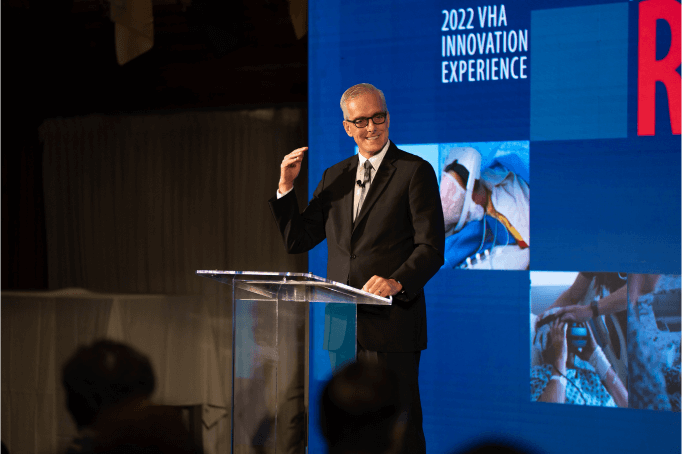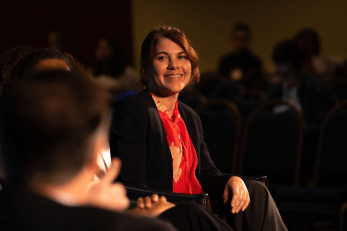 About iEX
Transforming Veteran Care: The 2023 VHA Innovation Experience
The 2023 Veterans Health Administration (VHA) Innovation Experience (iEX) is an exciting opportunity to be at the forefront of change alongside your fellow innovators, VA employees, Veterans, Industry Leaders, and researchers. This year's event will help you find a home for innovation in VA as we gather in person for an interactive experience that includes expert panels, keynote speakers, demos, and, new this year, breakout sessions with the nation's premier innovators. VHA innovation is about breaking boundaries through innovative solutions and technology to make monumental improvements in the lives of Veterans. Shape the future of Veteran care with leaders from government, industry, and academia who are redefining how VA approaches Veterans' care and uses innovation to make lasting improvements.
Keynote Speakers and Panels
iEX 2023 has a power-packed agenda focused on Innovators, Welcome Home!, which includes keynote speakers and expert panels led by VA change-makers and innovation visionaries. Secretary of VA Denis McDonough kicks off iEX 2023, welcoming attendees and reiterating VA's commitment to innovation to meet Veteran health care needs. You'll want to register to secure your seat and listen in on the Government to Industry Panel session with VA, DARPA, and ARPA-H representatives discussing how to transition from government innovation to industry standard successfully. The Mission Daybreak Panel will open a meaningful dialogue with the winners of VA's Mission Daybreak challenge discussing the prevention of Veteran suicide. Only at iEX do you get opportunities to join thought leaders from government, industry, and academia in making innovation history as they turn the unsolvable into solutions through technology.
Breakout Tracks
All new to iEX, breakout sessions will help you dive deeper into innovation with four major themes: What is VHA Innovation?, Mastering Innovation, Training & Education, and Connect & Collaborate. These interactive experiences span solutions that include XR, 3D printing, mobile apps, and building innovation strategies to solve some of VA and Veteran's toughest challenges in health and wellness. Meet the nation's leading innovators, bringing you with them to the cutting edge of change. Some breakout sessions to get excited about include:
The breakout sessions listed below are only a sample of what's in store for iEX. Please note the agenda is subject to change.
What is VHA Innovation?
Workforce Transformation
How VHA is transforming the culture and capabilities of our workforce, specifically highlighting: Innovation Fellowships, the Diffusion Talent Accelerator, and VHA Innovators Network Programming.
SimLEARN 101
Learn the basics of SimLEARN. How does simulation improve Veteran outcomes.
The Frontline Employee Innovation Experience: Stories of Spreading Innovation
Hear the innovation journey of frontline employee innovators, from problem identification to solution development.
Mastering Innovation
VA Data Analytics
Go deeper into the world of analytics and how tools like artificial intelligence and synthetic data are driving VA forward.
Environmental Impact
This session will highlight the impact and relationship between health care and the environment and what can be done to innovate in this space.
Training & Education
Intro to XR
Learn the basics of extended reality and how it's being used throughout VA and health care.
Building Your Innovation Strategy
Learn how to strategically build innovation into your work-life. Leave with tools and resources to support innovative thinking.
Connect & Collaborate
VA Intrapreneurial Product Marketplace Innovators
Connect & Collaborate sessions will be a unique facilitated experience where conference participants can network with innovators and experts in specific fields. This session will feature innovators with products featured on the VA Intrapreneurial Product Marketplace.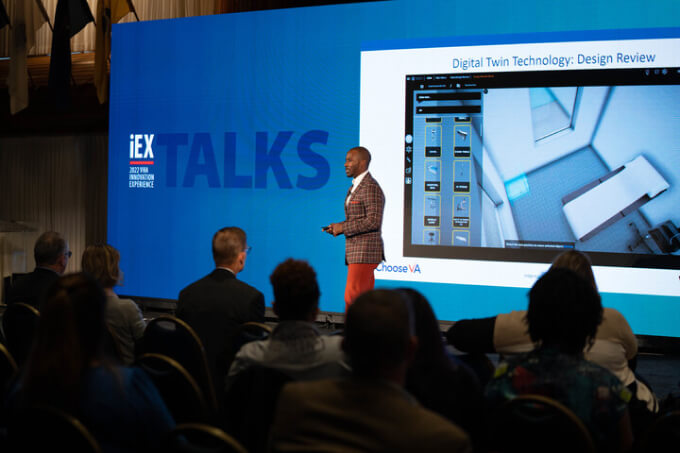 iEX Talks
VHA iEX Talks from those at the forefront of their fields provide real-world experiences where innovation has made a tangible change, impacting Veterans at every level of well-being. In six-to-eight-minute TED Talk-style presentations, VA employees share experiences that widen our viewpoint, challenge our perspectives, and touch on current hot topics like VA's collaboration with the Elizabeth Dole Foundation to provide Veteran caregiver respite, manufacturing personalized health care for VA, and how empowering frontline innovators can be used as a method for changing the culture at a health care facility. Challenge your beliefs and engage in exciting dialog about the future of Veteran care!