VA News and Announcements
VA News and Announcements
On December 13, 2019, VA announced the submission to Congress of VA's initial pilot proposal under MISSION Act, Section 152. The pilot aims to increase Veteran access to dental care services by coordinating with community-based, pro bono or discounted dental service providers
The Final Rule (AQ56) was published on Friday, October 25th, 2019, whereby the Department of Veterans Affairs (VA) has the authority to conduct pilot programs designed to develop innovative approaches to tackle some of the most complex challenges facing our nation's Veterans. The Final Rule is effective on Monday, November 25th, 2019.
VHA and VIC leadership discuss Community Care and innovative pilot programs addressing MISSION Act priorities
On October 31, 2019, the Health Services Research & Development (HSR&D)/ Quality Enhancement Research Initiative (QUERI) National Conference brought together Department of Veterans Affairs (VA) leaders in Community Care with VA researchers to discuss the most pressing needs regarding the future of Community Care research. This year's theme was "Innovation to Impact: Research to Advance VA's Learning Healthcare Community."
Among the speakers, Dr. Kameron Matthews, JD, FAAFP, Deputy Under Secretary for Health for Community Care, Veterans Health Administration (VHA) and Michael Akinyele, MBA, VA Chief Innovation Officer and Executive Director (Acting), VA Innovation Center (VIC), led an active conversation regarding the current state of VA Community Care and MISSION Act priorities and efforts. VIC's primary focus is to implement Section 152 of the MISSION Act, and the VIC team works to identify approaches and test new models to reduce the cost of delivering services while maintaining or improving quality of care for our Veterans. VIC developed three pilot proposals in partnership with colleagues across VA. During the event, Mr. Akinyele provided an overview of these pilot program proposals which include:
Community Partnered Collaborations for Veterans (CPCV)
Mental Healthcare for Diseases and Deaths of Despair (MHD3)
Multi-eligible Veteran Care Improvement (MVCI)
These pilot programs aim to:
Increase Veteran access to pro bono and discounted community care and services such as dental care (CPCV)
Increase access for Veterans at risk for diseases and deaths of despair to services such as mental health care to address suicide prevention (MHD3)
Improve overall integration of care and beneficiary outcomes by integrating health care benefits across VA and other health insurance (MVCI)
Each of these pilot programs explore collaborations within VA and with outside entities that incorporate innovative approaches such as new technology platforms (CPCV); augmented intelligence to better optimize VA's mental health capacity (MHD3); and value-based payments that would enhance integration and simplify transactions between health care providers and payers while increasing the range of services offered to Veterans (MVCI).
Conference attendee's insightful feedback and questions provided both support of current pilot concepts and ideas for the development of future pilot programs. VIC's innovative, solution-driven work and HSR&D's expertise in identifying, evaluating, and implementing timely evidence-based strategies created an engaging environment and rich conversations on the best ways to improve health care for Veterans. The VIC team looks forward to engaging additional stakeholders throughout the development and implementation of the pilot programs.
Interactive discussions with UVA's graduate students - insights for successful pilot program submissions to Congress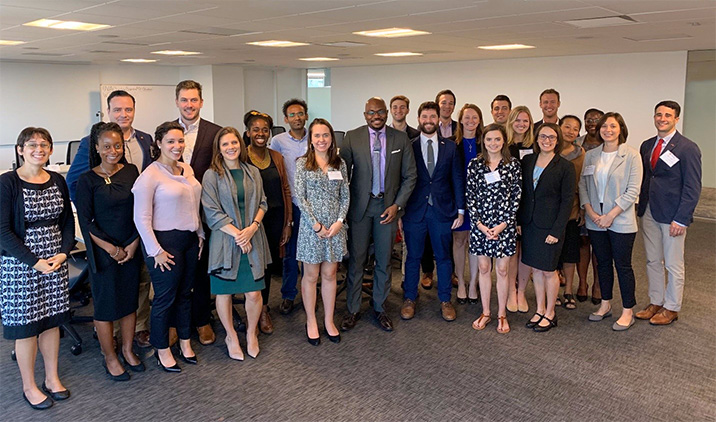 On October 4, 2019 Michael Akinyele, MBA, VA Chief Innovation Officer and Executive Director, VA Innovation Center (VIC), spoke with graduate students from the University of Virginia's (UVA) Tri-Sector Leadership (TSL) Fellows Program. This program looks at the importance of multi-disciplinary perspectives in decision making and brings graduate students together from UVA's law, business, and public policy schools. Students participated in interactive dialogues with highly accomplished leaders. During a breakout session, Mr. Akinyele challenged the fellows to put themselves in his position and develop a plan for how they would gain Congressional approval for a pilot program. Students stressed the importance of engaging and winning support of stakeholders, both with the formal and informal authority to affect change.
The Department of Veterans Affairs (VA) is proposing to amend its regulations that govern VA health care. This rule would establish parameters and authority for the new Center for Innovation for Care and Payment in its conduct of pilot programs designed to develop innovative approaches to testing payment and service delivery models to reduce expenditures while preserving or enhancing the quality of care furnished by VA.