About SimLEARN
The Simulation Learning, Evaluation, Assessment, and Research Network (SimLEARN) provides an ever growing body of curricula and tools that improve overall Veteran well-being through simulation-based innovation and technologies provided in a safe learning environment.


Mission
Set the standard for innovative healthcare education solutions through simulation-based innovation and technologies provided in a safe learning environment.
Vision
Be the indispensable asset to the enterprise and its partners that provides world class services to all Veterans through innovation and simulation education.
SimLEARN Virtual Academy (SVA)
SVA leverages innovation and technology to advance simulation education through synchronous and asynchronous modalities. SVA decreases training costs, minimize logistic requirements and reduces the time clinical staff are away from Veteran care through the reduction of travel to training locations.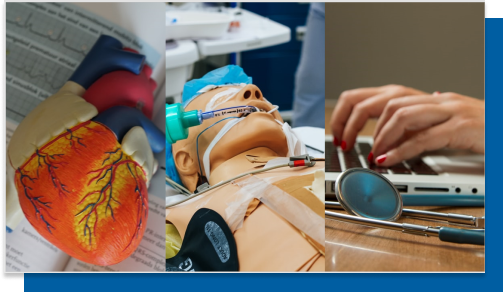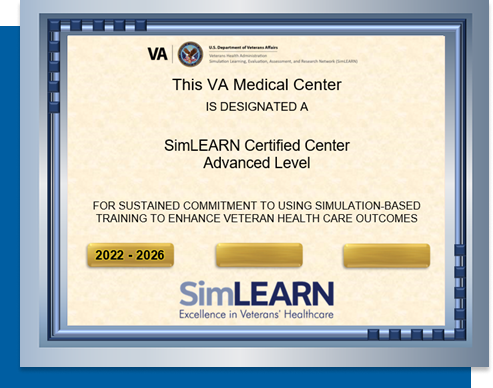 Certified Simulation Centers
SimLEARN staff recently awarded simulation certifications. These certifications are scheduled to be awarded to qualified facilities twice each year; in June and December. Facility certifications last for two years and are renewable. They are a distinctive accomplishment. There are three tiers of certification: basic, intermediate and advanced. Below is a link to the full list of certified facilities. A facility can request certification after one year of existence while meeting the basic level criteria. A non-binding email of intent and certification application is required. Please contact the team by sending an email to: VHASimLEARNFacilitySimulationCertification@va.gov



VHA SimLEARN National Simulation Center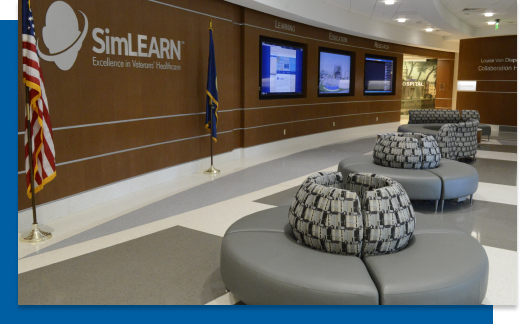 The VHA SimLEARN National Simulation Center was built on the campus of the new Orlando VA Medical Center, which is part of the exciting new "Medical City" campus at Lake Nona.

The Lake Nona development site includes other large clinical, education and research facilities. A variety of Federal simulation research offices are in close proximity at the University of Central Florida campus. This strategic placement facilitates enhanced opportunities for research in new simulation technologies and methods.

The VHA SimLEARN National Simulation Center serves as the operational hub for coordination of all national VHA clinical simulation activities.


Activities of the VHA SimLEARN National Simulation Center
Development and delivery of national simulation-based training curricula
Creation of national policies, procedures and standards for conduct of simulation-based training across a network of VA medical facilities
Coordination and support of Veterans Integrated Service Network medical center simulation-based training programs and feedback on local curricula
Train-the-trainer programs*
Train-the-provider programs*
Development of serious games, virtual environments and virtual patients to support health care education and training
Simulation technology innovation, evaluation and development
Simulation technology technical support
Human factors evaluation and systems testing
Advanced surgical training using virtual reality simulators
Interprofessional Advanced Fellowships in Clinical Simulation
Management of VHA's Resuscitation Education Initiative, or REdI, a national simulation-based training program in coordination with the American Heart Association for internal training of Basic Life Support and Advanced Cardiac Life Support certifications
National acquisition of simulation equipment
Educational research
Tele-Simulation training


---
★ The center's train-the-trainer and train-the provider approach uses the most suitable modalities of simulation to include mannequin-based simulation, standardized patients and hands-on task trainers.
Take a walk through the VHA SimLEARN National Simulation Center